Grandpa loved his "machines" [41]. He would say he owned over 30 automobiles during his lifetime (post Depression). Margaret has told me Grandpa owned Fords, a Hudson, a Teraplane, an Auburn, a Duesenberg limousine, a Packard, and a Buick. Grandpa's last vehicle was a "woody" Plymouth station wagon.

Grandpa always purchased cars which were at least ten years or more old - absolutely never a new car - and he would repair them and the cars were sold "as good as new".

At one time while working on a car in the garage at Lakewood Avenue, the car was hoisted up on wooden blocks, Grandpa was under the car doing repairs and down the car fell on him. He could barely yell for Grandma who was in the house but someone finally heard his cry and Grandpa was pulled from under the car with a badly injured chest, arm and shoulder. According to Grandma, the doctor was called to the house and Grandpa was heavily bandaged as he sustained serious injuries and needed a lengthy recuperation.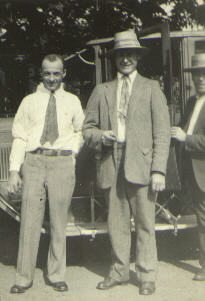 1930 - Autos - Frank Fischer & Henry Martin to Grandpa's right [41A]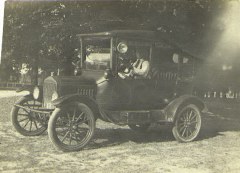 1922 - Frank Fischer and his Ford [41B]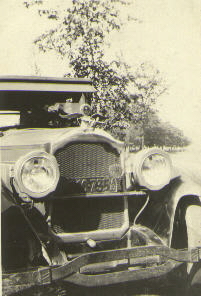 1935 - Grandpa's car [41C]