It seemed we always had a pet around the Fischer house - either cats or a dog, a yellow canary, or painted turtles from Woolworth's dime store.

Mitzie is the only cat I can remember. When we were four or five years old, Grandpa built a large sandbox under the back porch at Lakewood Avenue for my cousin, Marion and me. We would always carefully watch for Mitzie so she didn't mess in our sandbox.!

Mitzie would have kittens every time she could, so there'd be plenty of kittens around. That is, of course, until Grandma became tired of it and began giving kittens away.

After Mitzie, in the 1930s, we owned a dog named Prince. Prince was a "watch dog" - he barked at everyone passing by and roamed the neighborhood with other dogs. (Those were the days before dogs had to be licensed and kept inside.) Prince often growled at us and seemed bad tempered. We eventually gave Prince to the Ehardt's because they needed a watch dog like Prince for their farm [64A].

After Prince we yearned for another dog, so Grandpa, Frank and I went to the Anti-Cruelty Society on Grand Avenue in Chicago to select a new puppy that we named Brownie. Regrettably, Brownie was not a healthy puppy. We found it necessary to return him to the Anti-Cruelty Society, and did not bring home another puppy. So sad.

In the late 1940s, Grandpa found a beautiful tan and white fluffy puppy wandering on Illinois Central property where Grandpa and Frank worked. The puppy turned out to be a Pekingese puppy that we named Tootsie [64A]. She lived a happy, content life for over ten years.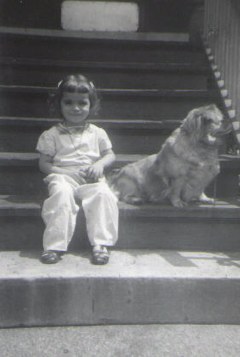 1949 - Carol Ann and "Tootsie" at 2821 N. Western Avenue, Chicago [58C]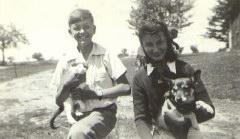 1940 - On the Ehardt farm - Brother & sister John & Anne Ehardt - Anne holding "Prince" [64]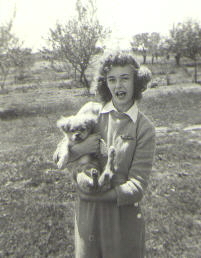 1940 - Mary Ann holding "Tootsie" while on the Ehardt farm [64A]