Through the years Grandma and Grandpa enjoyed playing cards, and had many card playing friends.

They played poker with Tante Mary and Uncle Julius [67]. Frequently on Friday evenings when sweet Barbara Jean was an infant, Rosemary, Frank [68] and Barbara visited Grandma and Grandpa on Western Avenue and poker was always played at the kitchen table while little Barbara slept on Grandma and Grandpa's bed in the bedroom near the kitchen.

They had certain pinochle playing friends, too, including Tante Mary and Uncle Julius, the Rademachers and Serwies. They also had certain friends with whom they played a card game called, "66".

When I was a little kid, too small to be left home alone, I accompanied Grandpa and Grandma to their friends' homes so they could play cards, and I would eventually fall asleep on a sofa. When the evening was over, after their card playing and sandwiches and coffee, Grandma would wrap my coat or sweater around me, and Grandpa would carry me to the car and off we'd go - back home again - even on cold winter evenings. I remember that so well.

Grandma and Grandpa enjoyed listening to the radio everyday and so did we Fischer children.

During the late morning and afternoon, while Grandma was either ironing or crocheting, Grandma would listen to her "soaps" which would include "Our Gal, Sunday", "Ma Perkins", and "The Road of Life" and others I simply cannot remember. Each radio show would last fifteen minutes.

After school and while eating an after school snack, I'd listen to "Little Orphan Annie" and Frank would tune in to "Jack Armstrong, the All American Boy" and I'd listen to that, too. Frank once sent in his request to the radio station for a super "keen" special decoding ring so that secret messages from Jack Armstrong's radio show could be decoded.

In the kitchen, Aunt Margaret would listen to "The Hit Parade", and I'd hear the top ten popular songs of that week!! Yipee!

After dinner Grandpa would relax in his large wing backed chair in the living room, light up a cigar or pipe, turn on his short wave radio and tune in music originating from London or Germany and read that day's newspaper.

By that time it would be bedtime for Mary Ann and I'd fall asleep listening to Big Ben striking the hour in London, with strong and weak short wave signals and strains of symphony music coming from London and waltzes from Germany.

Listening to the kitchen radio, Grandma, Margaret, Frank and I would hear wonderful comedy and dramatic radio shows as "Jack Benny", "Fred Allen", "Fibber McGee and Molly", "The Great Gildersleeve", "The Lux Radio Theater", "Mr. Keane, Tracer of Lost Persons", and mystery shows ... "The Shadow", "Inner Sanctum", "I Love a Mystery", "The Hermit" and the scariest of the scariest, "Lights Out"!! Our family loved listening to the radio.

Grandma and Grandpa also made a daily habit of reading the Herald American Newspaper. We had a "paper boy" who would knock at the door once a week for payment of his paper delivery service. This practice continued for years including paper delivery to our homes at Lakewood Avenue and Western Avenue.

As we came out of the Depression era, Hollywood was busy producing movies which attracted people of all ages to flock to neighborhood movie theaters.

Our family was no exception, however the only movies at that time which Grandpa enjoyed seeing were adventure/comedy movies featuring the actor, Wallace Beery, so Grandpa was a bit more selective about movies. Grandma and we kids went to movies often, particularly when the theater offered free dishes, glassware or silverplated flatware for the price of an admission ticket!

A typical neighborhood theater would charge 10 cents admission on Saturday afternoons in the late 30s with a bag of popcorn costing 5 cents and the same price for a Babe Ruth candy bar. Such fun for us.

In 1938, Grandma and I saw the first Disney movie, "Snow White and the Seven Dwarves" - a wonderful treat for us. During the late 1940s, air conditioning came to theaters and huge banners would be flown from theaters advertising that they had AIR CONDITIONING!!! A great escape on hot summer afternoons and evenings.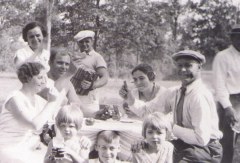 1936 - Playing cards at an Edelweiss picnic. Background: Mr. & Mrs. Rudy Lachnicht. Middle: Tante Mary, Uncle Julius, Grandma, Grandpa. Bottom: Marion, Frank, Mary Ann [67]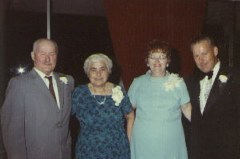 1968 - Grandpa, Grandma, Rosemary and Frank at Barbara's Wedding [68]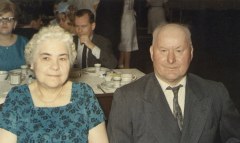 1968 - Grandpa and Grandma at Barbara's Wedding [68A]