For seventeen years, Grandma and Grandpa and we children lived at 3341 N. Lakewood Avenue, Chicago. I was born while we lived at this home, and had strong ties to that two-story frame house with the narrow gangway, a small front yard, and a flowery back yard with a four-person green glider swing. Its front stairs were well-used; we'd sit and gaze at neighbors, and watch the activity in the neighborhood.

The front porch of our home was a popular place to be. On summer days, when my girlfriend Doris and I were eight or nine years old, we would play cards (500 Rummy and regular Rummy) and Monopoly for hours on end, or we would color or play with paper dolls - creating a wardrobe of paper dresses which we'd store in old shoe boxes and play with over again.

In 1930s' summers - after dinner with the dishes washed, dried and put away - Grandma and Tante Mary and many of the neighbors would sit on their front porch stairs and talk, and watch their children play "kick the can" and "hide 'n seek" and other games until the sun would disappear and the street lights would turn on.

Frank and other neighborhood teenage boys would play ball at the corner of Lakewood and Henderson, or just congregate at the street corner or in front of the candy store - kitty corner from our house.

Many of the dads would visit the local neighborhood tavern and carry home pails of cold beer to be enjoyed on the front porch stairs on really hot, hot evenings. Those were the days before bottled beer was available, and before we knew about fans and air conditioning.

Although we truly loved the home on Lakewood Avenue, Grandpa had always wished for a newer, larger home, and in particular a brick home [62]. In 1945, Grandma and Grandpa finally sold our home and moved to 2821 N. Western Avenue, Chicago. It was tough leaving behind all of those memories [63].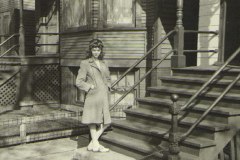 1943 - Mary Ann in front of 3341 N. Lakewood Avenue, Chicago [62D]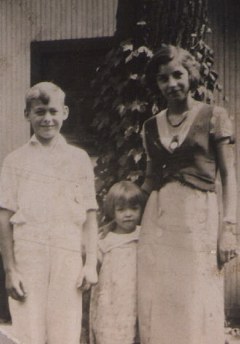 1933 - Frank, Mary Ann, and Margaret in front of garage in backyard of 3341 N. Lakewood Avenue [63A]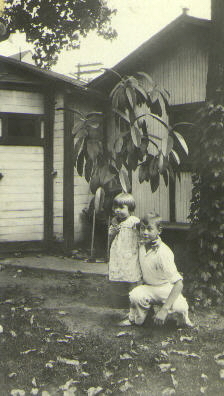 1935 - Mary Ann and Frank Fischer in backyard of 3341 N. Lakewood Avenue, standing in front of the rubber tree in the yard [63C]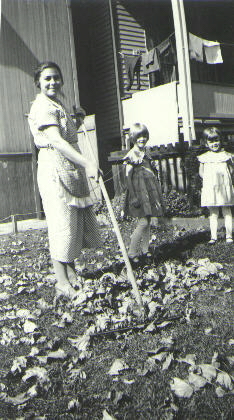 1937 - Grandma, Mary Ann and Marion Domscheit in backyard at 3341 N. Lakewood Avenue, Chicago. [63E]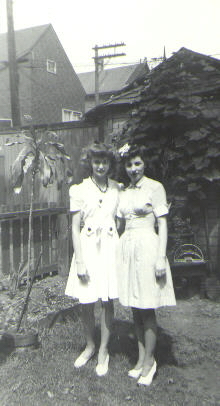 1940 - Mary Ann & Margaret in yard at 3341 N. Lakewood Avenue, Chicago [63G]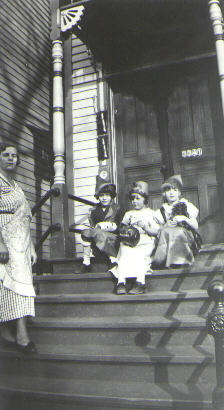 1937 - Halloween at 3341 N. Lakewood Avenue - Tante Mary, Uncle Julius & Marion lived on second floor - Kids are Dorothy, Marion, Mary Ann [62A]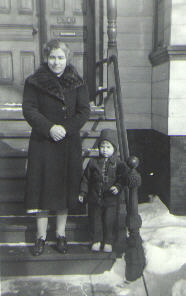 1942 - Grandma at 3341 N. Lakewood Avenue, Chicago [62B]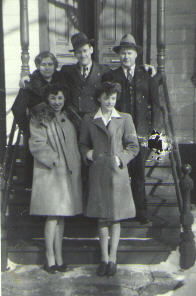 1942 - The Family at 3341 N. Lakewood Avenue, Chicago [62C]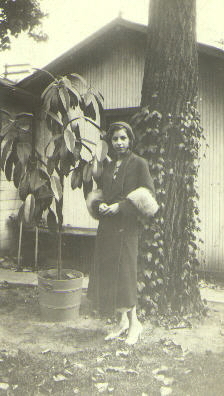 1935 - Margaret Fischer in backyard of 3341 N. Lakewood Avenue, standing in front of the rubber tree in the yard [63B]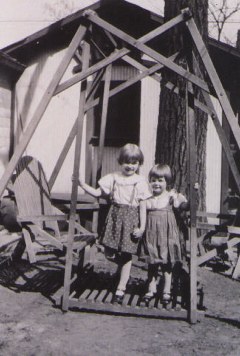 1935 - Mary Ann Fischer & Marion Domscheit on swing in front of garage in backyard of 3341 N. Lakewood Avenue [63D]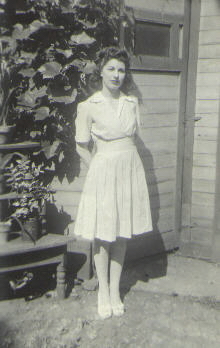 1940 - Margaret Fischer (22) standing in yard at 3341 N. Lakewood Avenue, Chicago [63F]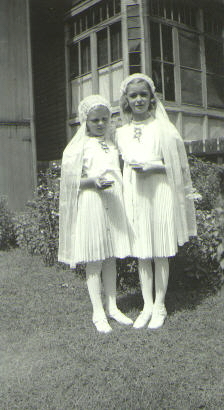 1939 - Communion photos in neighbor's backyard - back porch of 3341 N. Lakewood Avenue in background [63H]