Margaret and Ray Chappatta eloped on January 1, 1941. They were married by a Justice of the Peace in Indiana to avoid the possibility of their employer finding out about their marriage and one of them losing their job - company rules at that time.

Margaret held a secretarial position in the Legal Department at Miehle Printing Press Company and Ray worked as a Time Study Expert at the same place. The company was located in the vicinity of Damen and 14th Streets in Chicago.

After their marriage [53] Margaret and Ray lived in an apartment with Ray's parents who owned a home near Belmont and Milwaukee Avenue, and within a year after they were married, Ray was called into the Service [54] because WWII was in full progress.

Margaret returned home to live with our family again on Western Avenue and continued working at Miehle. Miehle was involved by that time in wartime production as well as printing press manufacturing.

Ray was placed in the 7th Armored Division (Army tanks) and received his basic training in the deserts of California and Nevada. He was stationed in Italy and North Africa where many heavy armored tank battles took place.

Margaret eagerly looked forward to Ray's army leaves (a short holiday or vacation from the army) and would count the days until Ray would arrive home for a visit.

For approximately six months, Margaret took a leave of absence from her job at Miehle Printing Press and moved into an apartment at Columbus, Georgia, near Fort Benning, Georgia, where Ray was stationed for additional army training. She was able to find a position working for an attorney during her stay in Georgia to be near Ray and would see Ray only on weekends.

Shortly before Ray left for active duty in Europe, he was transferred to an embarkation army camp near New York City and Margaret lived at a hotel in New York City to again be somewhere near Ray before he left for active duty. He could see her periodically until he sailed to Europe. She was in New York for three weeks.

By coincidence, our brother, Frank, was also stationed at another camp in New York City ready for embarkation and Frank was able to contact Margaret at the hotel where she stayed and brother and sister had a brief reunion before Frank left the U.S. for Europe and active duty.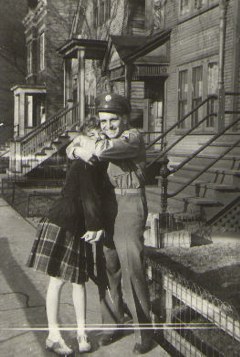 1943 - Mary Ann & Ray (home on leave) [54A]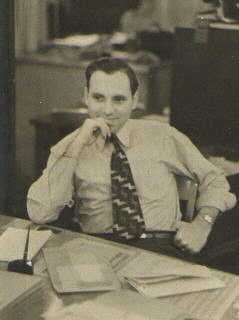 1948 - Ray Chappatta (30) at the office [53]