Edward T. Ozzie was born as Edward Thaddeus Oczkowski in Chicago by Polish immigrant parents, and was raised on the south side. From the ages of three until nine, Ed lived in Poland - absorbing wonderful memories of the countryside that he'd carry with him for the rest of his life.

In 1993, Ed's dream of returning to Poland came true. Ed, Mary Ann, Ray and his wife Dawna spent a week exploring Ed's lovely and picturesque tiny home village of Popowicze, two neighboring towns of Stary Sacz and Nowy Sacz and seeing the big city sights of Krakow and Warsaw.

The four of us enjoyed an unusual flat-bottomed boat ride down the Dunajec River in an area of Southern Poland known as Szczawnica. Too soon it was time for us to say "Dovidzenia" (good-bye) to beautiful Poland.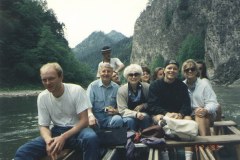 1993 - Ed, Mary Ann, Ray and Dawna on the Dunajec River in Southern Poland [201c]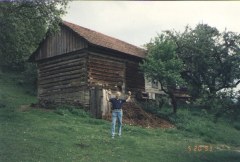 1993 - Ed Ozzie discovers his childhood home [201a]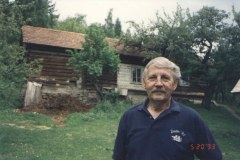 1993 - Ed Ozzie in front of his childhood home [201b]