In Chicago, Ed attended Crane Tech High School, Class of 1939. Ed graduated from Crane Tech High School (class president!), then worked for Stewart Warner Corporation and also Ryerson Steel, while also serving in the 132nd Infantry Regiment of the Illinois National Guard on a monthly basis.

He was inducted into the Service nine months before Pearl Harbor [49] and on January 3, 1942, was on board a troop ship from New York as part of a Task Force heading for the Philippine Islands, but the Islands fell to the Japanese while the troop ship was enroute to the Philippines. The ship ultimately landed in Melbourne, Australia.

At the time, Ed was a Platoon Sergeant in the 132nd Infantry Regiment. After two weeks in Melbourne, the Task Force was shipped to the island of New Caledonia and after nine months there, Ed and his platoon were sent to and participated in the battle of Guadalcanal as part of the Americal Division.

He spent some time in the army hospital in the Fiji Islands and was sent back to the States in May 1943. After hospitalization, Ed was sent to Camp McCoy in Wisconsin. He was accepted for OCS (Officer's Training School) at Ft. Benning, Georgia.

After graduation from OCS as a Second Lieutenant, Ed was sent to Ft. McClennan, Alabama, where he trained young men for combat and was discharged there from the Service as a First Lieutenant after the Japanese surrender in 1945.

Ed returned home to his parents and made a decision to further his education by attending the University of Illinois on the G.I. Bill as millions of servicemen were doing at that time.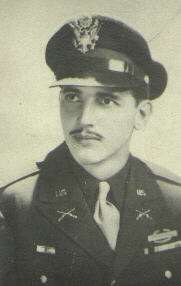 1944 - Ed Ozzie [49]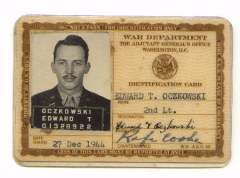 1942 - Ed Ozzie's Military ID Card [91]