In early fall each year, Grandpa would drive us to Baroda, Michigan, a small farming community near St. Joseph, Michigan where the their friends, the Ehardts, lived. We would spend the weekend visiting the Ehardts on their tidy little farm.

They owned a brick bungalow home, a huge barn, acres of vegetables, one cow and calf, one horse, chickens, geese, pigs and goats, too. The Ehardt's daughter, Anne , and son, John, [64] would milk their cow, Bossy, while I watched, and they would show me how all the animals were fed.

We had fun doing farm chores. In the evening darkness, the three of us would find large potatoes in the field, build a small fire and roast the potatoes until they were dark and crisp. Unbelievably delicious delights - stuck on a small branch and showered with salt!!

The outhouse (outside toilet) was not my favorite place to be on the Ehardt's farm, but there were other things that were quite quite memorable. In particular, I was fascinated by the enormously tall windmill near the house which made a wonderful squeaky, clangy sound when the wind turned it.

Outside, we'd pump for drinks of water - so cold and so good! Since the Ehardts did not have inside plumbing, water for drinking, cooking and bathing was provided through a small hand pump which was attached to a wooden sink. For bathing, water was pumped into a large pot and heated on the stove.

One summer I spent a week's vacation on that wonderful farm. What an experience for me!! Anne took a turn visiting us for a week's vacation in the city!! I think she liked farm living better than city living.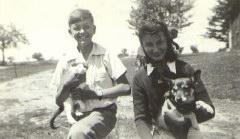 1940 - On the Ehardt farm - Brother & sister John & Anne Ehardt - Anne holding "Prince" [64]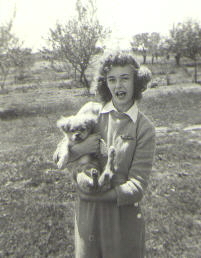 1940 - On the Ehardt farm - Mary Ann holding "Tootsie" while at the Ehardt farm [64A]