Shortly after I was born, Mary Domscheit (Tante Mary) who lived in au-Hallertau, Germany, wrote to Grandpa and Grandma requesting to live with our family. Grandpa and Grandma agreed to this arrangement and Tante Mary left her home town of au-Hallertau to come to the U.S.

Tante was Grandpa's half-sister and was about twenty-five years old at the time. Grandpa and Grandma became her sponsors - the sponsors of a new immigrant. Tante Mary, who then became my godmother, lived with us, and Grandma helped Tante find a job. She found work as a maid for wealthy families. At that time, many immigrant European women were able to find good employment in housekeeping jobs.

When Tante Mary was twenty-seven, she met Uncle JuliusDomscheit and they were soon married [34]. Tante's wedding dress was short, up to her knees, and the dress fabric appears to be green satin. The style was typically "flapper" of the late 1920s and early '30s.

Uncle Julius worked for the Chicago Tribune until his retirement. He was foreman of the department at the Tribune where huge rolls of paper were carried off boats coming from Canadian paper mills. The boats were docked next to the Chicago Tribune Tower building on the Chicago River.

After they married, Tante Mary and Uncle Julius moved to the second floor of our home at 3341 N. Lakewood Avenue. Their daughter, Marion, was born in 1932 and Marion and I as cousins had fun, fun, fun, growing up together [35]. Tante and Uncle bought their first home in about 1940 and moved to Greenview Avenue in Chicago, about three or four miles from us on Lakewood Avenue.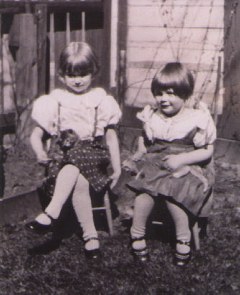 1935 - Mary Ann & Marion Domscheit in backyard holding Mitzie's kitten [35A]

Tante Anna, Grandma's sister, married Henry Martin and they had four children: Frank, Marie, Catherine and Bob. The Martins lived in West Pullman or Roseland as it was also called. Their address was approximately 11600 South Harvard Avenue, so that meant they lived far south and also east, near Michigan Avenue.

Uncle Henry was a barber by trade and worked at a barber shop but he also had a barber chair in their basement and owned all the convenient barber equipment of that time and would cut hair right there in the basement. Uncle Henry would always cut Grandpa's hair and my brother, Frank's hair, and mine too, on those visits to the Martins in the 1930s.

They were a happy family and we always had good times together. Tante Anna and Grandma [36] were great cooks and we always had a feast of fresh vegetables from Tante's vegetable garden next to their home.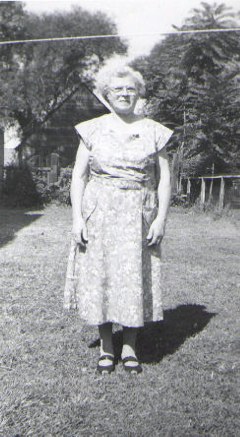 1956 - Grandma's sister Anna Martin [36B]

My sister, Margaret, and cousins, Marie and Catherine [37] were teenagers at the time and spent lots of private time together telling secrets, talking and laughing and styling each other's hair and experimenting with makeup which was becoming very fashionable to use in the 1930s.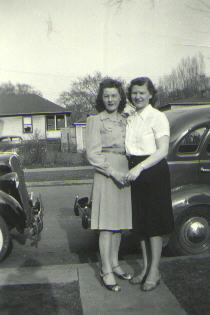 1936 - Cousins Catherine & Marie Martin, daughters of Grandma's sister Anna Martin. Tante Anna and Uncle Henry and family lived on the SE side of Chicago known as West Pullman or Roseland. Took 2 hours by streetcar to reach their home. [37A]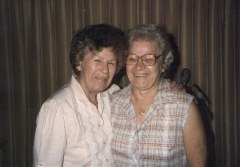 1983 - Catherine and Marie Martin [37C]

Both my brother, Frank and our cousin, Frank, were in their teens, too, [38] and both enjoyed working on constructing crystal sets (early form of radio), making model planes from kits consisting of extremely thin plywood and colored tissue paper glued over the wings, and talking about cars.

That left Bob and me [39] (Bob was two years younger than I was) to climb trees and to investigate the neighborhood.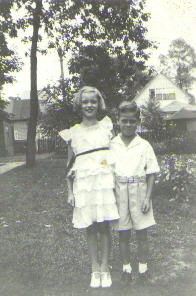 1937 - Mary Ann Fischer (9) and cousin Bob Martin (7) [39A]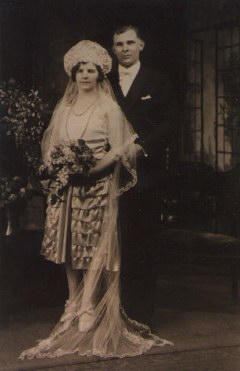 1933 - Tante Mary & Uncle Julius' wedding [34]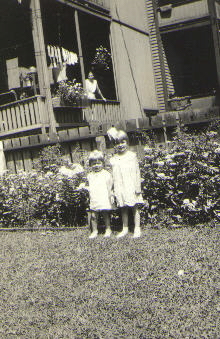 1933 - Grandma on back porch of 3341 N. Lakewood Ave, Chicago. Marion Domscheit & Mary Ann Fischer in neighbor's yard. [35B]



1933 - Grandma, Marion & Mary Ann on back porch of 3341 N. Lakewood Ave, Chicago. The Domscheits lived on the second floor. [35C]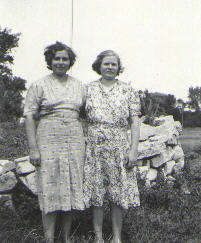 1935 - Sisters - Mary Fischer (Grandma) and Anna Martin (Tante Anna) [36A]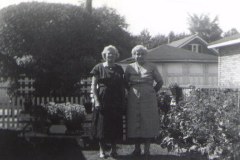 1956 - Grandma and her sister Anna Martin [36C]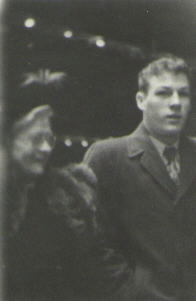 1949 - Grandma's sister Tante Anna (Anna Martin) and Bobby, her son, my cousin and Grandma's nephew [36D]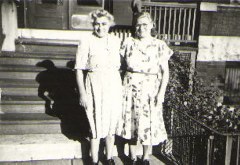 1950 - Grandma and her sister, Anna Martin, in front of 2821 N. Western Avenue, Chicago [36E]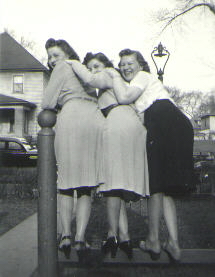 1936 - Catherine, Margaret, Marie in West Pullman / Roseland [37B]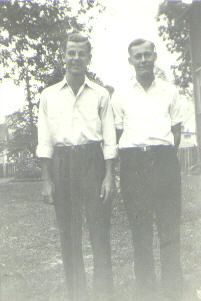 1938 - Frank Fischer and cousin, Frank Martin [38]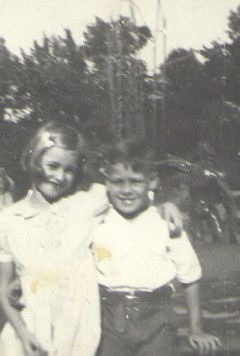 1937 - Mary Ann Fischer (8) and cousin Bob Martin (6) at Buckingham Fountain, Chicago, at Fischer/Martin family gathering. [39B]