In 1926, Grandma and Grandpa decided to return to Europe in order to pay an extended visit to their families. Grandpa took a leave of absence from work, they sold their home [19], put their furniture in storage and left with the children, Margaret and Frank.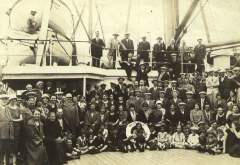 1926 - Grandpa in top-center holding rope fence. Grandma to far right - third row up. S.S. Republic on the way to Europe. [19]

The Fischer family had an enjoyable eleven day trip on board the S.S. Republic [19A]. Margaret recalls that the voyage was great fun for everyone, and that Frank was so cute. During a Charleston dance contest on the ship, Frank danced the Charleston until his little sailor suit pants became undone and dropped to the floor. He won a dance prize for that performance!

The visit to Germany (Grandpa's family) and to Romania (Grandma's family) was enjoyable and memorable for them [20,21,22,23,24]. Grandma's family took care of Margaret (age 8) and Frank (age 4) while Grandpa took Grandma on a holiday to visit Garmish in the German Alps for several weeks, a luxurious resort area. Delayed honeymoon?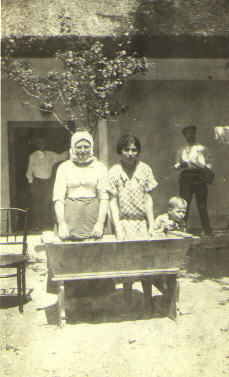 1926 - Summer - Johannesfeld, Romania - In front of home of Grandma's parents. Long white stucco building. Standing behind washtub is Gretel (Mom's younger sister), Mom & Frank (4). In doorway is Mom's father, Hans, and Grandpa. [21]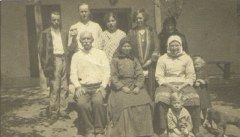 1926 - Family photo taken in front of Grandma's home in Romania. Grandpa, Grandma, Grandma's father Hans and stepmother Anna, younger sister Gretel with Frank sitting on ground. Others including blond child unknown. [23]

When the wonderful vacation was over and it was time to return home to the U.S., Grandpa discovered he could not return home with Grandma and the children because the German government's records showed that Grandpa had left Germany illegally in 1914 when he "jumped ship". A rather worrisome situation, to say the least.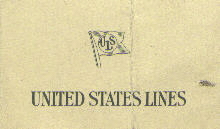 1926 - Return trip home for Grandma, Margaret and Frank [26]

Grandma and Margaret and Frank returned to Chicago [26,27] and lived with sister Tante Anna and her husband, Henry Martin and their growing family, until the matter was cleared up. It took approximately six months for Grandpa to receive clearance to return to the U.S [28]. The U.S. had a limit on the number of German citizens that were permitted to enter the U.S. at that time, but Grandpa's proof of family responsibilities had an influence on their decision for clearance to return to the U.S.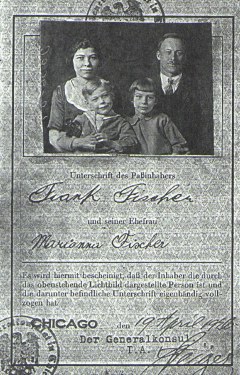 1926 - Passport to Europe [19a]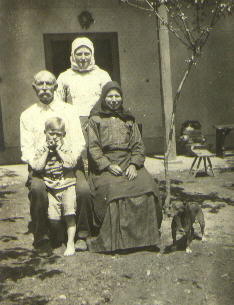 1926 - Summer - Johannesfeld, Romania - In front of home of Grandma's parents. Long white stucco building. Grandma's father Hans holding Frank, stepmother Anna and sister Gretel standing. [20]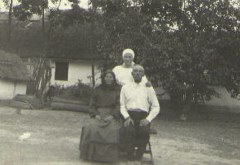 1926 - Photo taken at the home where Grandma was born and raised. Gretel (Mom's younger sister) standing behind Mom's parents, her stepmother Anna, and her father Hans. [22]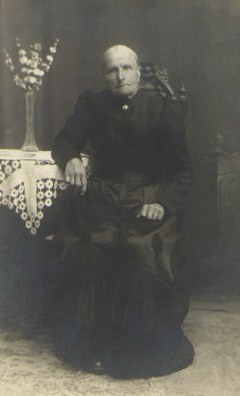 1926 - Frank Fischer's 85 year-old Grandmother who raised him in au-by-Fresing (after WWI) and au-Hallerton (before WWI) [24]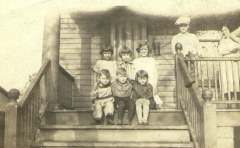 1926 - On front stairs of Tante Anna & Uncle Henry's home on S. Harvard St. in Roseland. Katy Achs, Margaret, Marie Martin, Emil Achs, Frank Fischer, Catherine Martin, Frank Achs standing. Grandma standing nearby. This photo was taken while Grandma, Margaret & Frank lived with the Martins until Grandpa was able to join the family again after clearance from Germany. [27]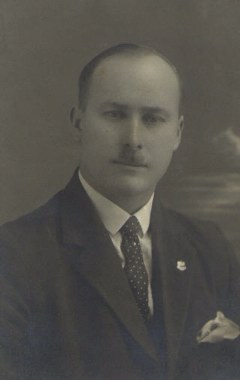 1926 - Frank Fischer (32) - Photo taken in Munich before he returned to the U.S. after being detained in Germany. [28]