It is unknown how long Grandpa remained in New York, but he and Grandma did not see each other again for about two years. As if by fate, Grandpa eventually found himself in Chicago, working as a gardener on estates in the area.

As did many of German descent, sometimes Grandpa would frequent a German dance hall in the North Avenue and Wells area called the Kartuffel (potato) Hall. As it happens, Grandma did as well, along with her newfound Chicago friends and relatives [10,12].

Grandma would relate to us that one evening at a dance she attended, a young blond fellow persistently stared at her and Grandma's girlfriends noticed him staring at Grandma and asked Grandma whether she knew the blond fellow. Then Grandpa approached Grandma and said something like, "Haven't we met somewhere before?" The rest is history. [11,13]



1916 - Mary Heib and Frank Fischer - Studio Photos [11,13]


Grandma would later tell us of ice cream parlors and silent movies featuring one of the best and funniest actors of that time, Charlie Chaplin and handsome, dramatic Rudolph Valentino. These were the very fashionable places that young people would enjoy attending on dates at that time (1915 and 1916) - and that's what Grandma and Grandpa did, too. Such fun. When they dated, Grandma and Grandpa also enjoyed dancing waltzes and would attend many German dances in the old German neighborhood.

Eventually, in 1917, Grandma and Grandpa were married [14]. Grandpa began working for sheet metal contracting firms, and made a good living at his trade. Margaret was born in 1918, and Grandma and Grandpa rented a small home in Chicago on Custer Street (now Shakespeare Avenue) [15] near Webster and Lincoln Avenue. Old records show that they had a boarder for extra income. In 1922, Frank was born and they bought their first home [16,17,18].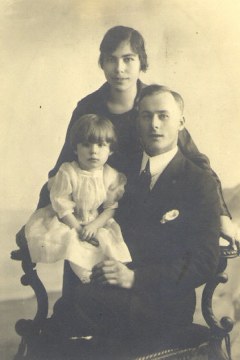 1920 - Grandma, Grandpa, Margaret (2 yrs) - Studio photo [15]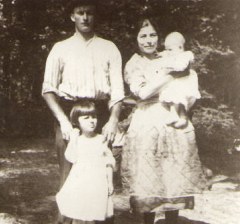 1922 - Frank & Mary Fischer holding Frank and Margaret, standing in front of Grandpa holding his fingers. [16]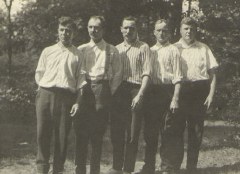 1923 - Lineup at a Picnic - Frank Fischer second from right, and Mike Mathis, Grandma's cousin's husband [18]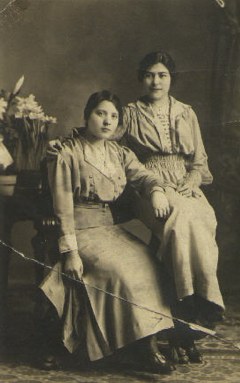 1916 - Mary Heib (Fischer) and Nancy Kaufman (cousin) [10]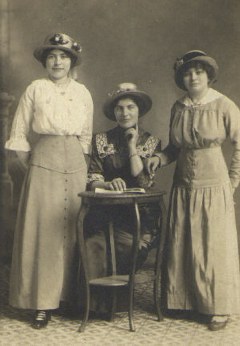 1916 - Mary Heib (Fischer), Barbara Strobel (girlfriend) and another girlfriend [12]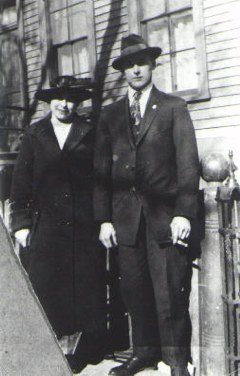 1916 - Grandma & Grandpa's Wedding Day [14]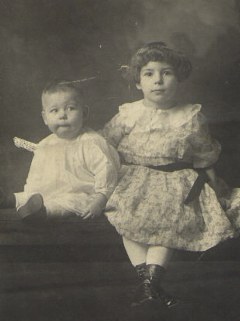 1922 - Margaret and Frank posing for photographer [17]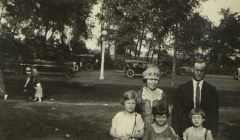 1924 - Grandma & Grandpa, Marie Martin, Katie Achs, Aunt Margaret [18A2]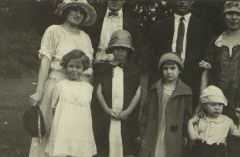 1924 - Sunday in the Park - Mr. & Mrs. John Porten, Grandma & Grandpa, Emily Porten, Marie Martin (8), Aunt Margaret (7), Uncle Frank (2) [18A1]