Grandma's home town in Europe was called Johannesfeld, near the city of Timisoara. Prior to WWI, Johannesfeld was located in Austria/Hungary, part of the German Austro-Hungarian Empire. After WWI, Johannesfeld was transferred to Romania, where it is today.

Grandma's family and close friends and relatives spoke German, however many of the town's residents spoke Hungarian - and Hungarian was also taught in school. Grandma attended school until 6th grade.

Some of Grandma's cousins still live in Johannesfeld today; one of our relatives may still live in the original long white stucco home where Grandma and her siblings were born.

Grandma had three siblings: Anna, Hans and Gretel. Gretel was Grandma's half-sister, as Grandma's real mother (Maria Gille' Heib) died shortly after Hans was born, and Grandma's father, Hans, remarried and Gretel was eventually born.

Anna, Grandma, and Hans were very young children at the time of their mother's death, and needed a mom ... and their stepmother, Anna, was indeed a wonderful mom to them. Grandma had fond memories of her stepmother, and of her dear father, too.

Grandma would describe her father as a patient, loving man. He would give in to the tears of his daughters when they begged and pleaded to buy new fabric so that the town dressmaker could sew a new dress for them. (No Casual Corner or Limited stores in which to shop for a frock in those days!)

Grandma would say that at the town's dances, young women and men would dance with each other under the eagle-eye of their mothers who were seated around the dance floor - observing every happening. Many marriages were pre-arranged by families without the consent of the young couples, and sometimes hearts were broken. Children were obligated to obey their parents for this important time in life.

When Grandma was fifteen or sixteen years old she was asked by the town's school teacher (referred to as the Professor, in those days) to take care of his baby daughter and to help the Professor's wife with household tasks. Grandma would tell us that she loved her work, and that she and the baby became very fond of each other. The Professor and his wife appreciated Grandma's service and had a lovely photograph [3] taken of Grandma with their little daughter. Grandma treasured that photograph.

Grandma would frequently reminisce about the beauty of her town, and would tell us about the abundant fruit trees growing on the family property in town, close to their church [4], shops and businesses that were part of Johannesfeld.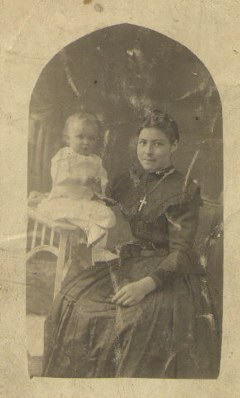 1912 - Mary Heib (16), nanny to the town's professor's child in Johannesfeld, Hungary (Rumania after WWI) [3]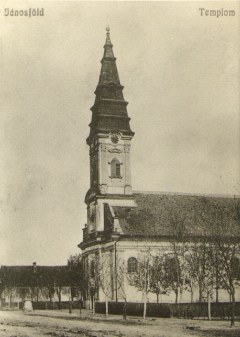 1900 - Austria-Hungary (now Rumania) - Grandma's church in her home village, Johannesfeld, Hungary [4]